Bio.Revive Mycommune 90 Capsule
INVMYC90C
---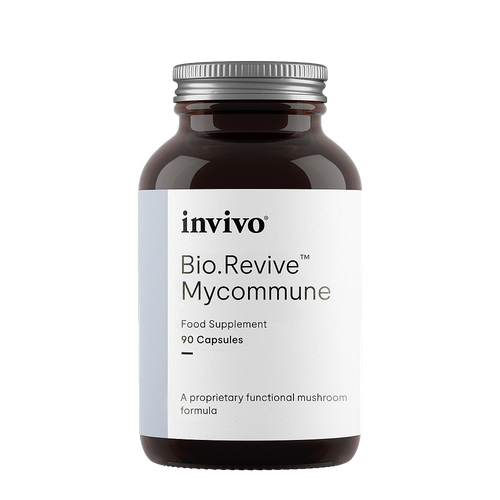 Bio.Revive Mycommune 90 Capsule
INVMYC90C
---
A medicinal mushroom mix to support immunity and provide antioxidant protection
Bio.Revive™ Mycommune is a synergistic blend of medicinal mushrooms containing over 100 biologically active compounds providing well-rounded support for immunity and biologic function.
When to use?
To strengthen the immune system
To prevent seasonal illnesses
To prevent general weakness
To optimise host-microbiome interactions
151 in stock
Key Benefits
---
Well-researched actives
The medicinal mushroom mixture contains over 100 different biologically active compounds which have been researched for their anti-inflammatory and anti-bacterial properties
Organically grown ingredients
All ingredients in the blend are organically grown in the European Union.
Contains Poria Cocos
Poria Cocos is traditionally used in Chinese and Japanese medicine as a tonic for overall health and vitality.
Nutritional Information
Ingredients: MycoMix®Immun (Cordyceps, Ganoderma lucidum, Lentinula edodes, Hericium erinaceus, Grifola frondosa, Poria cocos, Trametes versicolor, Agaricus blazei), Capsule Shell: Hydroxypropyl Methylcellulose