Bio.Revive Beta Immune + 30 Capsule
INVBIM30C
---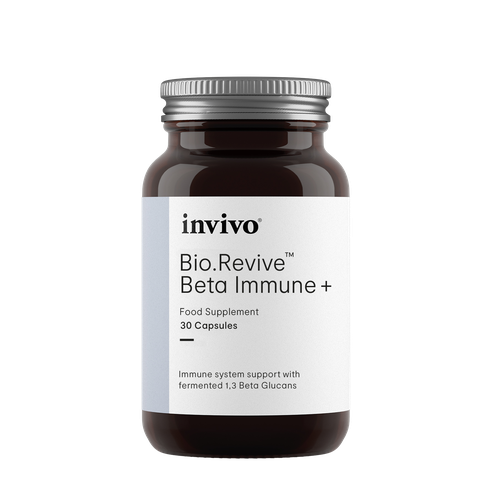 Dairy Free
Gluten Free
Stevia Free
Bio.Revive Beta Immune + 30 Capsule
INVBIM30C
---
The essential vitamins and minerals required to support the immune system, alongside an immune-supportive fermented beta glucan complex
Bio.Revive™ Beta Immune + contains the vitamins and minerals required to support the production of immunoglobulins, such as secretory immunoglobulin A (sIgA), and for the health of the innate immune response of the epithelial lining, which provides the first line of defence against invasion.
5852 in stock
Key Benefits
---
Boosts the Immune system
Zinc, Vitamin A and Vitamin D contribute to the normal function of the immune system
Rebalances the gut
Beta Glucans selectively feed lactobacilli to rebalance the gut microbiome
Extensively studied
BGF Immune contains polysaccharides that have been studied extensively for their effects on the immune system
Nutritional Information
Ingredients: Vitamin A 2,000 IU (As Retinyl Palmitate) 600μg, Vitamin D3 1,000 IU (Vegan) (As Cholecalciferol) 25μg, Zinc (As Zinc Bisglycinate) 20mg, BGF Immune® (Providing 1,3 Beta Glucans) 350mg, Capsule Shell: Hydroxypropyl Methylcellulose
Directions
Take 1 capsule daily.
Do not exceed the recommended dose, unless advised by your healthcare professional.