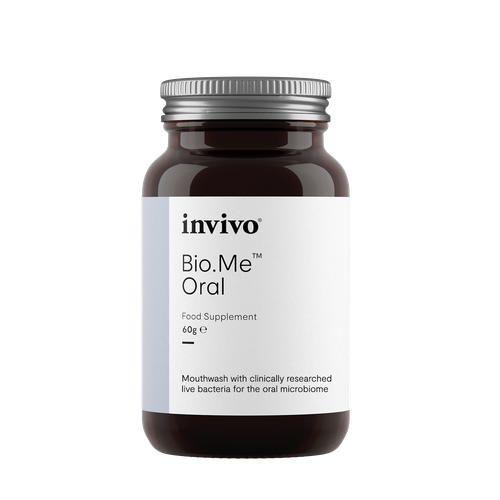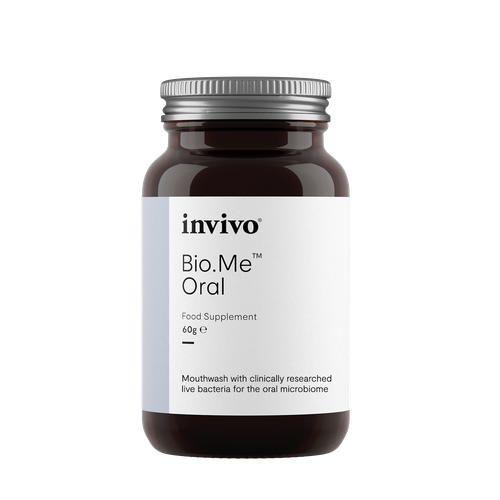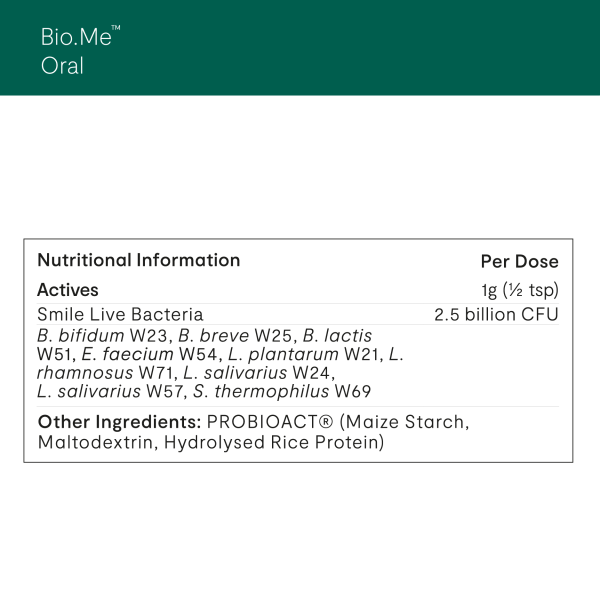 Dairy Free
Gluten Free
Stevia Free
Clinically researched live bacteria for the oral microbiome
A multi-strain live bacteria formula (often referred to as probiotics), developed to be used as part of a daily oral health routine to support oral health and the oral microbiome.
Bio.Me Oral is formulated using PROBIOACT® technology. The PROBIOACT® Technology consists of product-specific protective and nutritional ingredients, which have been selected and extensively tested to keep the live bacteria (often referred to as probiotics) stable at room temperature, retain high cell counts during shelf life, protect against osmotic shock during rehydration and consumption, protect against stomach acid, bile and digestive enzymes in the GI-tract and optimise the metabolic activity at the right time and place.
605 in stock
Key Benefits
---
Supported by clinical data
The strains in this formulation have been studied for their effects on pathogenic bacteria associated with the development of gingivitis, and the formation of plaque biofilms
Rebalances the Microbiome
Research has also shown that these cultures support the rebalancing of the delicate oral microbiome
Proven survivability
The bacteria are delivered in a matrix of starch and protein which ensure their survival
Nutritional Information
Ingredients: Smile Live Bacteria (B. bifidum W23, B. breve W25, B. lactis W51, E. faecium W54, L. plantarum W21, L. rhamnosus W71, L. salivarius W24, L. salivarius W57, S. thermophilus W69) 2.5 billion CFU, PROBIOACT® (Maize Starch, Maltodextrin, Hydrolysed Rice Protein)
Directions
Mix 1g (approx 0.5 tsp) into 50ml of water. Leave for 1 minute. Stir. Swish around the mouth for 20 seconds before swallowing or spitting out. Repeat morning and night for best results. Do not exceed the recommended dose, unless advised by your healthcare professional.
Suitable from 1 year
Warning: when taking antibiotics, wait 2-3 hours before taking Bio.Me Oral.
FAQs
I have heard that some healthy bacteria can make histamine, and I follow a low histamine diet. Is this product ok for me to take?
The bacterial strains in this formulation have been genetically tested to make sure they do not carry genes for histamine production, so can be used in people on a low histamine diet. 
I'm using the teaspoon dosage but this differs from the gram dosage, which is correct?
There are a few factors in play here – powders can settle over time, the density may vary from batch to batch and though there is a standardised tsp size, home measuring equipment (including scales) can have small variations. The best way to ensure you are getting the correct dosage is to weigh your dosages as the CFU are standardised per gram.
Is Bio.Me Oral suitable for use during pregnancy?
Bio.Me Oral is suitable for use during all stages of pregnancy.