Bio.Me Mind + Mood 60 Capsule
INVMIN60C
---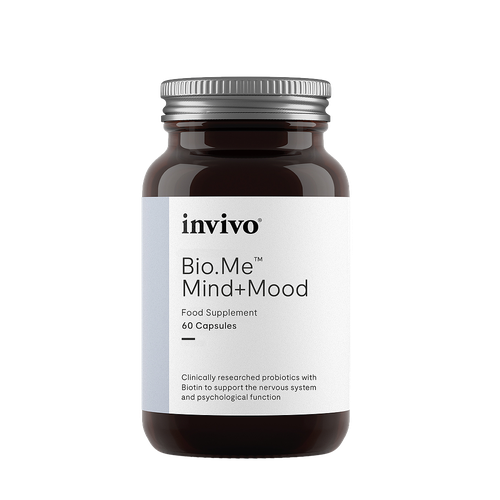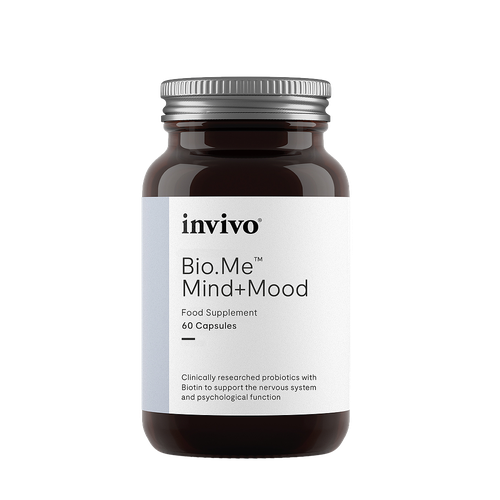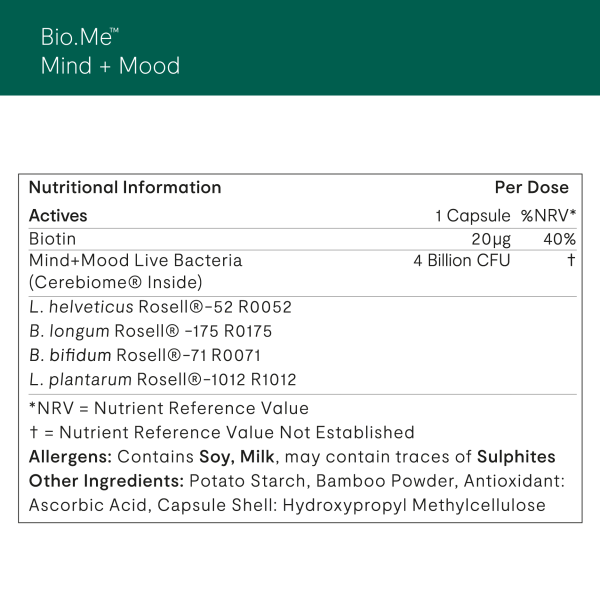 Contains Milk
Gluten Free
Stevia Free
Bio.Me Mind + Mood 60 Capsule
INVMIN60C
---
Clinically researched probiotics with biotin to support the nervous system and psychological function
Bio.Me™ Mind + Mood is a clinically researched multi-strain live bacteria which has been formulated with biotin to support symptom modulation of mood imbalances such as anxiety and depression, and to support reduction of stress-related gut complications.
Contains: Milk, Soybeans
May contain traces of: Sulphites
2486 in stock
Key Benefits
---
For the management of stress-related gut complications
To help promote a healthy mood balance
To help modulate feelings of anxiety
Clinically researched for effects on mood imbalances & stress associated bowel symptoms
Contains live bacteria strains that have been researched extensively in humans for their effects on human mood imbalances, such as anxiety and depression and stress associated bowel symptoms
Can be safely taken with other psychotropic medications
Can be taken safely alongside existing psychotropic medications such SSRI's etc.
Nutritional Information
Ingredients: Biotin 20μg, Mind+Mood Live Bacteria (Cerebiome® Inside) (L. helveticus Rosell®- 52 R0052, B. longum Rosell® - 175 R0175, B. bifidum Rosell®- 71 R0071, L. plantarum Rosell®- 1012 R1012) 4 billion CFU, Potato Starch, Bamboo Powder, Antioxidant: Ascorbic Acid, Capsule Shell: Hydroxypropyl Methylcellulose
Directions
Take 1 capsule with or without food, capsules can be swallowed whole or mixed in water for ease of dosing.  Do not exceed the recommended dose, unless advised by your healthcare professional.
Suitable from 3 years
FAQs
Can Bio.Me Mind + Mood capsules be opened?
Yes, the contents of Bio.Me Mind + Mood may be mixed with cold food or liquid.
I have heard that some healthy bacteria can make histamine and I follow a low histamine diet. Is this product ok for me to take?
The bacterial strains in this formulation have been genetically tested to make sure they do not carry genes for histamine production, so can be used in people on a low histamine diet.
What is the best way to store my probiotics?
Our probiotics are shelf-stable at normal UK room temperature in a dry space. Use within 2 months of opening.
Can I take probiotics with my psychotropic medications such as anti-depressants?
Probiotics have no recorded interactions with psychotropic medications, but we always recommend you check with your healthcare provider to know if these would be suitable for you.
Should I expect any side effects from taking live bacteria?
Generally, probiotic bacteria are well tolerated in individuals, with very minimal side effects. However, all our microbiomes are unique, and introducing new live cultures into your body may result in transient changes in bowel movements and possibly a small amount of bloating. These changes should settle within a few days of you acclimatising to your new friendly bacterial strains! If symptoms continue, stop taking the product and reach out to your healthcare professional to have a discussion.