Bio.Me Femme C 30 Capsule
INVFEC30C
---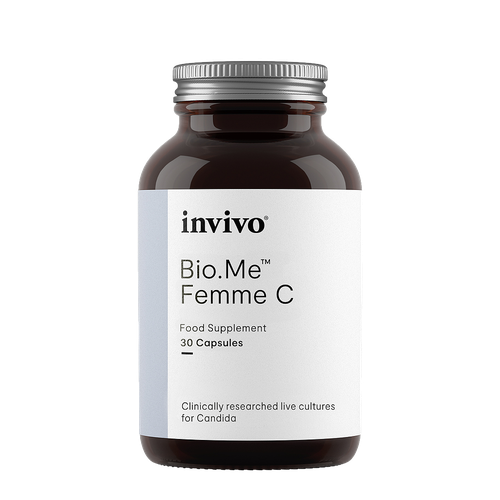 Dairy Free
Gluten Free
Stevia Free
GMP
Halal
Kosher
Non GMO
Vegan
Bio.Me Femme C 30 Capsule
INVFEC30C
---
Clinically researched live cultures for Candida
A proprietary and patented strain of Saccharomyces cerevisiae CNCM I-3856.
This strain of S. cerevisiae has been used in human clinical trials in which it significantly controlled C. albicans proliferation and decreased the risk of recurrence by 54% compared to placebo.
1823 in stock
Key Benefits
---
Clinically researched for its inhibitory effects on C. albicans and G vaginalis
S. cerevisiae CNCM I-3856 has been researched for it's inhibitory effect on pathogenic bacteria associated with candida
Rebalances the Microbiome
S. cerevisiae CNCM I-3856 has been shown in studies to support the rebalancing of the microbiome
Nutritional Information
Ingredients: S. cerevisiae CNCM I-3856, Anti-Caking Agent: Rice Flour, Capsule Shell: Hydroxypropyl Methylcellulose
Directions
Take 1 capsule daily.
Suitable from 6 months
FAQs
Can any gender use Femme C?
Yes, Femme C can be used
by
in
any gender with Candida albicans.
Is Bio.Me Femme C suitable for somebody following a kosher diet?
All of the ingredients contained in Bio.Me Femme C are certified kosher.
I have Candida albicans in my mouth and gut, can I still use this product?
Yes, this product was also researched for use in gastrointestinal Candida albicans.
What is the best way to store my probiotics?
Our probiotics are shelf-stable at normal UK room temperature in a dry space. Use within 2 months of opening.