Bio.Clear Endotox-LV 90 Capsule
INVEND90C
---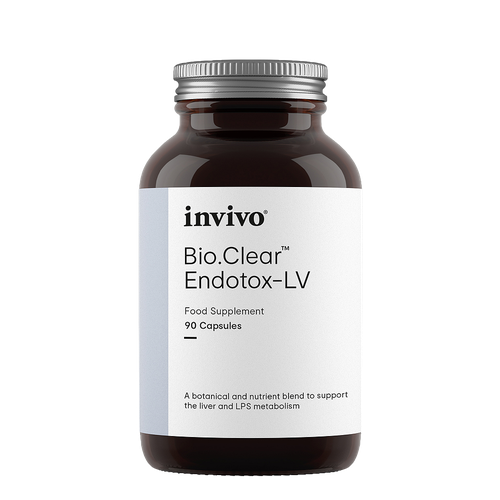 Dairy Free
Gluten Free
Stevia Free
Bio.Clear Endotox-LV 90 Capsule
INVEND90C
---
A botanical and nutrient blend to support the liver and LPS metabolism
Bio.Clear™ Endotox-LV has been developed to support liver function and bile production and flow, which also helps the clearance of endotoxins [lipopolysaccharides (LPS)].
This formula contains hepatoprotective and choleretic (increasing bile) botanicals such as hibiscus, burdock, spirulina, chlorella, milk thistle, dandelion and artichoke. Selenium has been added to support our endogenous antioxidant systems.
3081 in stock
Key Benefits
---
Protects cells from oxidative stress
Selenium contributes to normal thyroid function, and the protection of cells from oxidative stress.
Rich in Phytochemicals
Hibiscus is a rich source of phytochemicals, burdock is a powerhouse of antioxidants, and spirulina is a good source of vitamins and minerals.
Well-researched botanicals
Current studies on hibiscus indicate it that it is supportive of liver function and pharmacological research studies indicate that the compounds in burdock have anti-inflammatory properties.
Nutritional Information
Ingredients: Selenium Yeast (Providing Selenium 200μg) 100mg, Dandelion Root Extract 5:1 (3% Vitexin) 500mg, Burdock Root Extract 4:1 300mg, Hibiscus Extract 4:1 250mg, Chlorella 250mg, Spirulina 250mg, Artichoke Extract 4:1 (2.5% Cynarin) 200mg, Milk Thistle Extract 40:1 (80% Silymarin) 100mg, Capsule Shell: Hydroxypropyl Methylcellulose
Directions
Take 3 capsules daily.
Suitable from 12 years
Do not exceed the recommended dose, unless advised by your healthcare professional.
FAQs
Does Bio.Clear Endotox-LV contain iodine?
This product does contain very small trace amounts of iodine from naturally occurring sources and, as such, the actual amount in the product will vary by batch. In our last batch tested the amount of iodine was approximately 5% NRV so should not present an issue for those with thyroid conditions.
Which species of hibiscus is used in Bio.Clear Endotox-LV?
Bio.Clear Endotox-LV uses Hibiscus syriacus L. in the formula.
What is the selenium yeast source in the Bio.Clear Endotox-LV capsules?
The manufacturer uses Saccharomyces cerevisiae which is also known as 'brewer's yeast' or 'baker's yeast', it is not pathogenic. During the production process, the yeasts have been inactivated and dried. 'Live' yeast and moulds will be picked up by the testing, the standard is <100cfu/g.