Bio.Me Prebio GOS 90g
INVGOS90G
---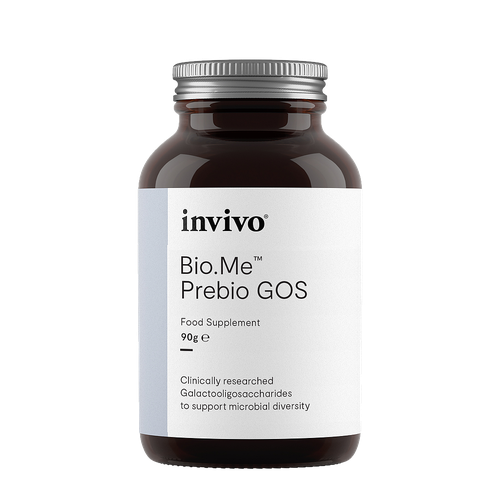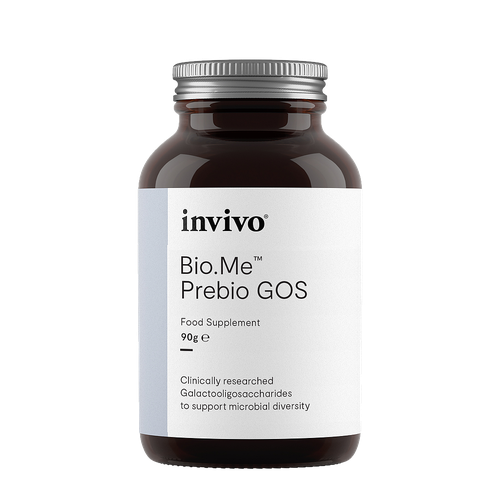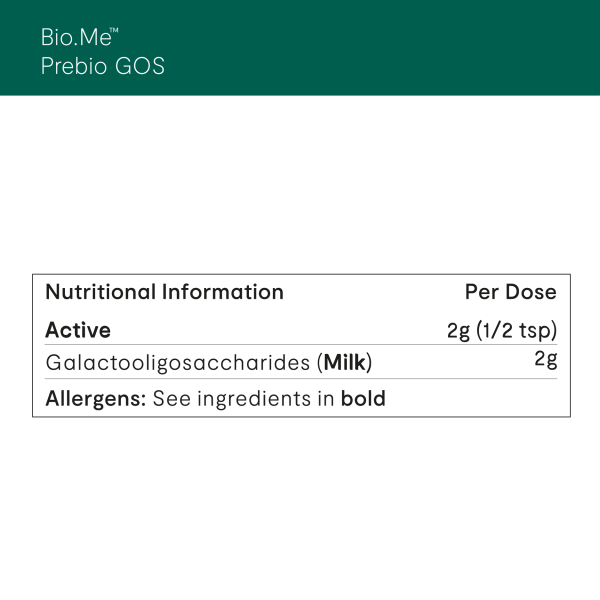 Contains Milk
Gluten Free
Stevia Free
Bio.Me Prebio GOS 90g
INVGOS90G
---
Clinically-researched galactooligosaccharides to support microbial diversity
A soluble prebiotic fibre targeted towards increasing Bifidobacterium and lactobacilli, and thus, the overall composition of the gut microbiome.
Increasing Bifidobacterium and lactobacilli may:
– Have immunomodulatory effects, increasing SIgA
– Help reduce risk of allergy development in infants
– Increase mineral absorption, especially iron, calcium and magnesium
– Increase SCFA production and protect the epithelial cells of the gut
– Regulate stool consistency, bloating and flatulence
Contains: Milk
1537 in stock
Key Benefits
---
Great source of prebiotic fibre
A convenient source of galactosyl lactose, which is a prebiotic soluble fibre derived from cow's milk
Rebalances the gut
Selectively feeds Bifidobacterium and lactobacilli to rebalance the gut microbiome and provide metabolites that are important for the gut barrier
Extensively studied
GOS has been studied extensively in relation to IBS, SIBO and allergies
Suitable for those breastfeeding, pregnant or with existing bowel symptoms
Dissolves in water with a subtle sweet flavour and can be used in individuals with existing bowel symptoms, as well as during pregnancy and breastfeeding
Nutritional Information
Ingredients: Galactooligosaccharides (Milk) 2g
Directions
Mix 2g (0.5tsp) daily into 200ml of water or other beverage of choice. Stir and take with or without food.
If new to taking this product, it is advisable to start with 1g dosage and slowly increase to 2g dosage to prevent abdominal discomfort.
FAQs
I have lactose intolerance; can I take Bio.Me Prebio GOS?
Bio.Me Prebio GOS contains lactose and should be avoided by individuals with a lactose issue, or taken with Bio.Revive Digestive +, which contains lactase.
I'm using the tablespoon dosage but this differs from the gram dosage, which is correct?
There are a few factors in play here – powders can settle over time, the density may vary from batch to batch and though there is a standardised tablespoon size, home measuring equipment (such as scales) can have small variations. The best way to ensure you are getting the correct dosage is to weigh your dosages as the products are standardised per gram.
What is the difference between Bio.Me Prebio GOS and other types of GOS on the market?
Bio.Me Prebio GOS contains a specific sugar structure (linkages) that results in increasing Bifidobacterium with also a capacity for feeding a broader variety of commensal bacteria. Bio.Me Prebio is a functional equivalent of Human Milk Oligosaccharides (HMOs). A further result of this structure there is an improved tolerance and digestive experience (compared to others in market).
What is the best way to take GOS?
Our GOS is heat stable and dissolves well in hot or cold water and can also be put in hot drinks or food. Once opened, use within 2 months. 
I am nervous about taking prebiotics as I get bloating and I am worried this will make it me worse?
GOS is a specially chosen prebiotic as it is well tolerated in the majority of people, unlike some other prebiotics like Fructooligosaccharides (FOS). However, all of our microbiomes are unique, so when trying to change your microbiome there may be some transient changes in bowel movements and abdominal sensations, none of which should be uncomfortable. 
In people with sensitive stomachs, we suggest starting with a lower dose and gradually increasing to the full dose over a number of weeks, so only the benefits are noticeable.