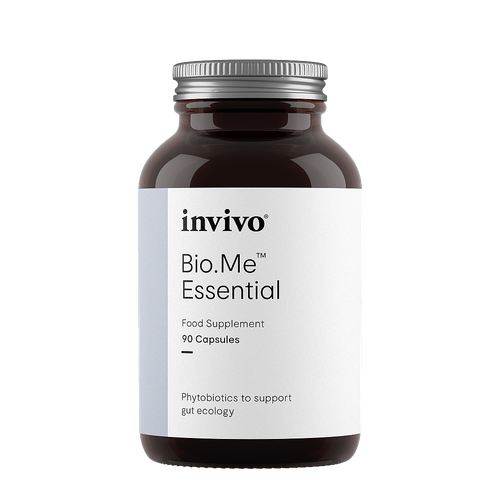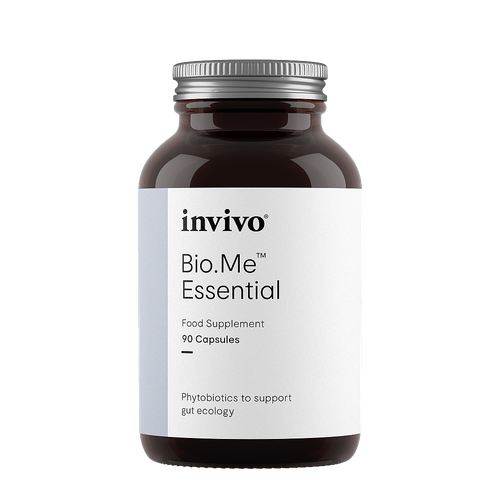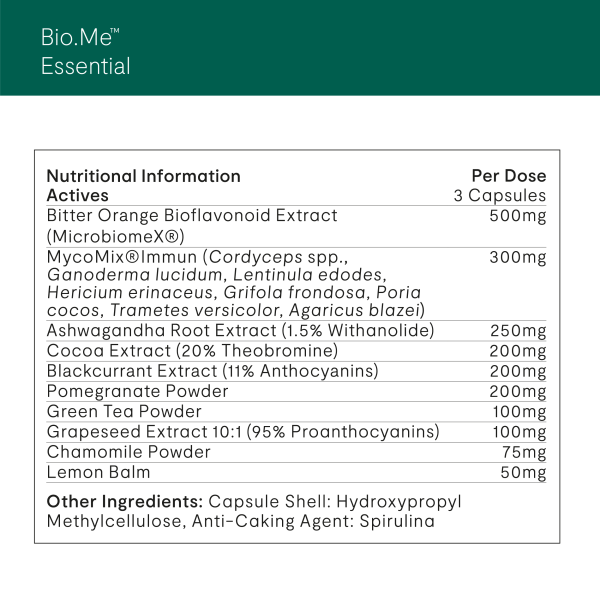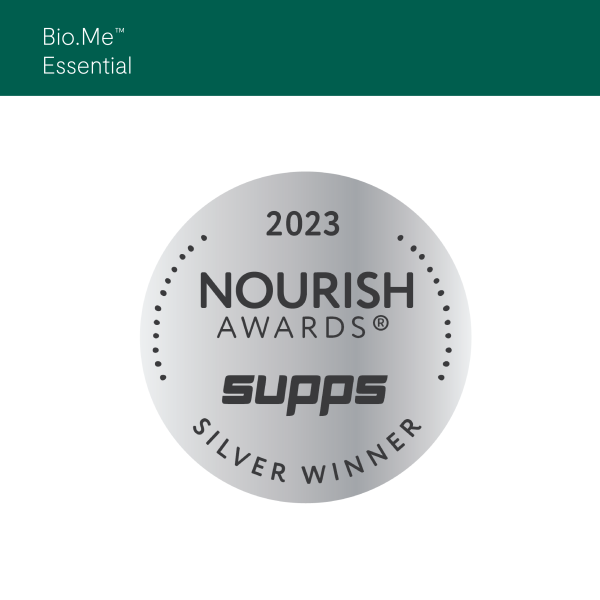 Contains Caffeine
Dairy Free
Gluten Free
Stevia Free
Phytobiotics to support gut ecology
A foundational prebiotic formula for your body's multiple microbiomes.
Bio.Me Essential was created to support a healthy microbiota, gut barrier, reduce gut inflammation and support the innervation to the gastrointestinal tract. It also works on the gut-brain axis.
Bio.Me Essential contains multiple evidence-based polyphenol-rich ingredients, including citrus bioflavonoid extract, blackcurrant, grapeseed, cocoa, pomegranate and green tea to balance and optimise your microbiomes.
The addition of lemon balm, chamomile and withania supports the gut-nervous-system-axis and may help with gut symptoms associated with nervousness and anxiety.
Bio.Me Essential can also be used in synergy with other products in the Bio.Me range.
N.B. caffeine content per dose (3 capsules) is 4 mg (approximately equivalent to 1/5 of a cup of green tea).
1369 in stock
Key Benefits
---
Contains polyphenols to support a balanced microbiome
Essential provides a rich mix of polyphenols from natural ingredients to help support a healthy balance of gut bacteria
Clinically studied
MicrobiomeX (derived from bitter orange) has been shown in clinical studies to help gut microbiota to produce metabolites necessary for good gut barrier function and immune cell activity.
Contains Ashwagandha Root Extract
Ashwagandha Root Extract has traditionally been used as an adaptogen and has been shown in studies to lower levels of the stress hormone cortisol.
Supports Rest and Digestion
Lemon balm is a carminative herb that contributes to a good and calm rest and is supportive of the digestive system.
Nutritional Information
Ingredients: Bitter Orange Bioflavonoid Extract (MicrobiomeX®) 500mg, MycoMix®Immun (Cordyceps spp., Ganoderma lucidum, Lentinula edodes, Hericium erinaceus, Grifola frondosa, Poria cocos, Trametes versicolor, Agaricus blazei) 300mg, Ashwagandha Root Extract (1.5% Withanolide) 250mg, Cocoa Extract (20% Theobromine) 200mg, Blackcurrant Extract (11% Anthocyanins) 200mg, Pomegranate Powder 200mg, Green Tea Powder 100mg, Grapeseed Extract 10:1 (95% Proanthocyanins) 100mg, Chamomile Powder 75mg, Lemon Balm 50mg, Capsule Shell: Hydroxypropyl Methylcellulose, Anti-Caking Agent: Spirulina
Directions
Take 3 capsules daily.
Suitable from 12 years
Do not exceed the recommended dose, unless advised by your healthcare professional.
FAQs
How should Bio.Me Essential be taken?
Bio.Me Essential can be taken with or without food and at any time of the day. The dose can be taken together or split as necessary.
Does Bio.Me Essential have any contraindications to consider?
Please discuss with your healthcare provider to see if Bio.Me Essential is suitable alongside any other medications that you might be taking.
Is Bio.Me Essential safe to take during pregnancy and breastfeeding?
Bio.Me Essential is not suitable during pregnancy or breast-feeding.
What age is Bio.Me Essential recommended for?
Bio.Me Essential is suitable from 12 years.
Is Bio.Me Essential suitable for vegans?
Bio.Me Essential is suitable for vegans.