Bio.Me Barrier 90 Capsule
INVBAR90C
---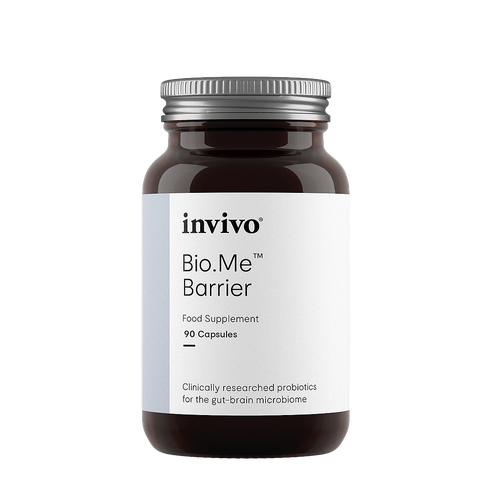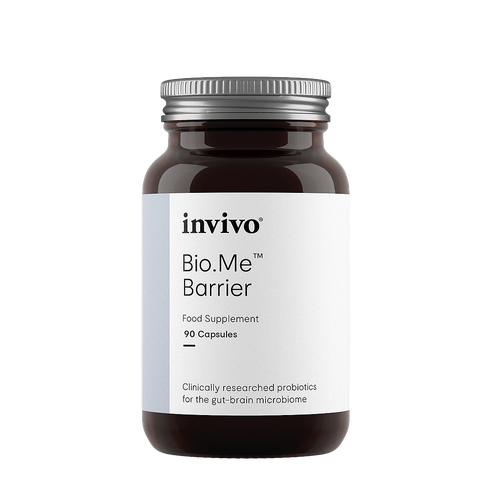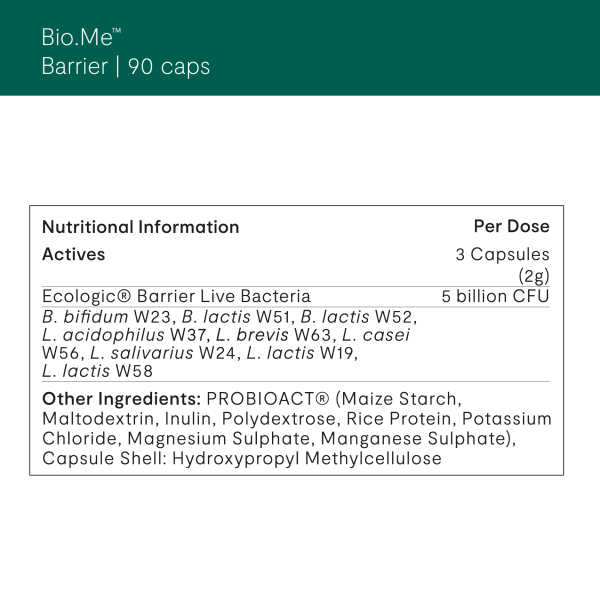 Bio.Me Barrier 90 Capsule
INVBAR90C
---
Clinically researched probiotics for the gut-brain microbiome.
A clinically-researched multistrain live bacteria for the gut-brain microbiome and intestinal barrier health, which works to support the immune response and tight junctions and to break down lipopolysaccharides.
2787 in stock
Key Benefits
---
Contains strains studied for their effects on epithelial barriers
The B. bifidum, L. acidophilus, L. brevis and Lc. lactis subsp. lactis strains in this formulation have been studied for their effects on epithelial barriers,
and the whole formulation has been studied particularly in relation to its effects on depression and memory performance in human subjects
Proven to reach the gut alive
PROBIOACT® technology ensures optimal viability of live cultures
Rebalances the microbiome after antibiotic use
Research has also shown that these cultures support the rebalancing of our microbiome, for example, after taking a course of anti-biotics.
Nutritional Information
Ingredients: Ecologic® Barrier Live Bacteria (B.bifidum W23, B.lactis W51, B.lactis W52, L.acidophilus W37, L.brevis W63, L.casei W56, L.salivarius W24, L.lactis W19, L.lactis W58) 5 billion CFU, PROBIOACT® (Maize Starch, Maltodextrin, Inulin, Polydesxtrose, Vegetable Protein, Potassium Chloride, Magnesium Sulphate, Manganese Sulphate), Capsule Shell: Hydroxypropyl Methylcellulose
Directions
Take 3 capsules daily with water, on an empty stomach.
Suitable from 1 year
When taking antibiotics, wait 2-3 hours before taking Bio.Me Barrier.
FAQs
I have heard that some healthy bacteria can make histamine, and I follow a low histamine diet. Is this product ok for me to take?
The bacterial strains in this formulation have been genetically tested to make sure they do not carry genes for histamine production, so can be used in people on a low histamine diet. 
What age is Bio.Me Barrier recommended for?
Bio.Me Barrier is suitable from 1 year of age
Is Bio.Me Barrier suitable to take during pregnancy and breastfeeding?
Yes, but we always recommend speaking with your healthcare provider about whether this supplement is suitable for you.
Should I expect any side effects from taking live bacteria?
Generally, probiotic bacteria are well tolerated in individuals, with very minimal side effects. However, all our microbiomes are unique, and introducing new live cultures into your body may result in transient changes in bowel movements and possibly a small amount of bloating. These changes should settle within a few days of you acclimatising to your new friendly bacterial strains! If symptoms continue, stop taking the product and reach out to your healthcare professional to have a discussion.   
What is the best way to store my probiotics?
Our probiotics are shelf-stable at normal UK room temperature in a dry space. Use within 2 months of opening.