Bio.Revive Digestive + 90 Capsule
INVDIG90C
---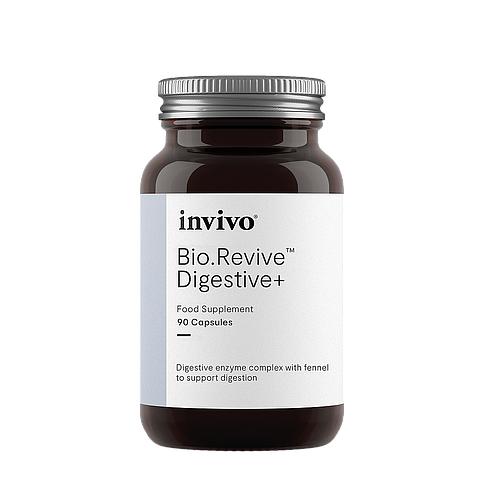 3156 in stock
Become an Invivo verified practitioner to purchase this product
Login / Register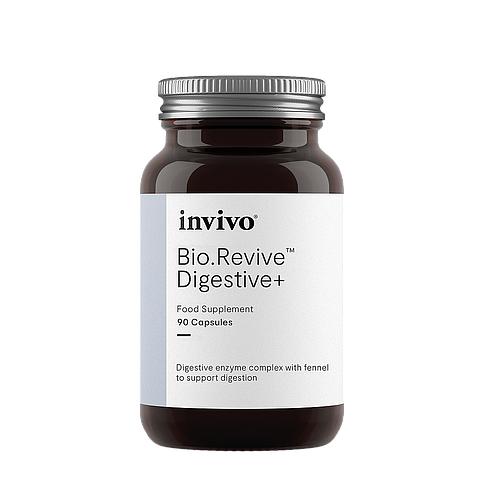 Dairy Free

Gluten free

GMP

Soy Free

Stevia Free

Vegan
Description
---
Helpful for people struggling with digestive capacity, Bio.Revive Digestive+ is a vegan digestive enzyme blend formulated using 9 digestive enzymes and fennel seed to support digestion.
Within this digestive complex, you will find 9 thoughtfully selected digestive enzymes that perform a variety of digestive actions. We are especially excited about the addition of alpha-galactosidase, the enzyme responsible for supporting the breakdown of carbohydrates in pulses – great support for individuals who usually struggle to digest them.
To complement the enzymes we have also added fennel seed to further support healthy digestion and may have a carminative effect on the stomach
Key Benefits
+ Supports healthy digestion (in those struggling with digestive capacity)
+ Contains 9 different digestive enzymes that breakdown a variety of food groups
+ Reduces bloating
+ Can be used whilst simultaneously working on underlying causes of why someone is not producing enough of their own digestive enzymes
Nutritional Information
---
View ingredients
Ingredients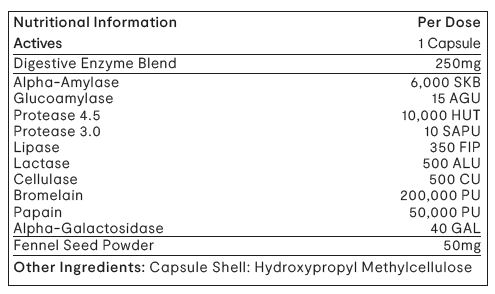 Directions
---
Take 1-2 capsules with a meal up to 3 times a day.
If using for anti-inflammatory effects instead of digestive support, digestive enzymes are then given away from meals.
Suitable for use from ages 12 and onwards.
Caution: If you have a stomach ulcer or other open wounds in the gastrointestinal system, digestive enzymes are contraindicated for use. This product is not suitable for those with sensitivity to carrot, celery or plants in the mugwort family. Digestive enzymes and fennel have not been tested for safety in pregnancy, so for that reason, we do not recommend consumption in pregnancy.