Bio.Clear Microbia 60 Capsule
INVMIC60C
---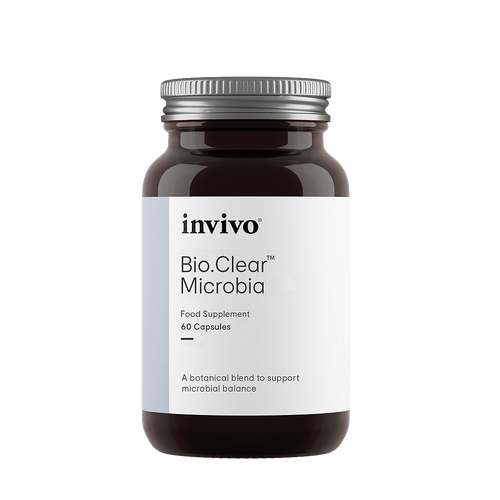 Dairy Free
Gluten Free
Stevia Free
Bio.Clear Microbia 60 Capsule
INVMIC60C
---
A botanical blend to support microbial balance in the multiple human microbiomes
A botanical blend designed to be used in short-term plans to rebalance a dysbiotic microbiome in the multiple human microbiomes, as well as optimising the host's endogenous mechanisms of redressing microbial balance.
3746 in stock
Key Benefits
Inhibits pathogen growth
Caprylic Acid is used in food production to inhibit pathogen growth, and has been studied for its effect on biofilms and bacteria
Contains Useful Phytochemicals
Wormwood contains many useful phytochemicals and has been studied extensively for its effect on parasites and for conditions such as Crohn's
Contains botanicals selected for their effects on fungi, bacteria and Viruses
The botanicals Pau D'Arco, Barberry Bark and Sage have been used traditionally for centuries, and recent clinical studies have confirmed their effect on fungi, bacteria and viruses
Nutritional Information
Ingredients: Wormwood Extract 4:1 (Artemisia absinthium), Caprylic Acid (As Magnesium Caprylate), Pau D'Arco Extract 4:1, Thyme Extract 4:1, Barberry Bark Extract 10:1, Clove Bud Powder, Sage Extract 5:1, Myrrh Extract 4:1, Capsule Shell: Hydroxypropyl Methylcellulose, Anti-Caking Agent: Spirulina
Directions
Take 2 capsules daily.
Suitable from 12 years
Do not exceed the recommended dose, unless advised by your healthcare professional.
Warning: Do not use during pregnancy or while breast-feeding