Probiommune Immune Support
---

Probiommune™ lozenges by Designs For Health are a combination of the K12 strain of Streptococcus salivarius and beta glucan from the yeast organism Saccharomyces cerevisiae
Designs For Health
Support for the immune system

Particularly beneficial for nasopharyngeal health in children and adolescents

May help to reduce the incidence of common childhood maladies such as bacterial pharyngitis, tonsillitis, upper respiratory tract infections, and acute otitis media.
Naso-oral-pharyngeal health is an aspect of the paediatric patient that is often overlooked until certain conditions present, such as otitis media (OM) or tonsillitis. OM, or inflammation of the middle ear, is a frequently occurring condition that primarily afflicts children and is one of the most common diagnoses made by paediatricians. Persistent episodes may result in the need for surgical intervention to avoid potentially serious long-term sequellae, such as hearing loss. Tonsillitis, or inflammation of the pharyngeal tonsils, is another common childhood malady. Bacterial and viral infections and other immunologic factors can lead to both tonsillitis, OM, and their complications, making strengthening children's immune defenses a priority, particularly during cold and flu season.
Each strawberry-flavored Probiommune™ lozenge contains 1 billion cfu of Streptococcus salivarius (K12) and 25 mg of beta glucan from Saccharomyces cerevisiae. They contain no sucrose or fructose, and are sweetened with lo han guo and the polyol mannitol. Presented in a delicious strawberry-flavored lozenge, this product is "kid friendly" and effective.
Probiommune™
Lozenges feature:
Streptococcus salivarius (BLIS K12) – A special, human-derived strain, which is a common beneficial bacterium found in the healthy oral cavity that helps inhibit the proliferation of pathogenic bacteria.
Beta Glucan (Wellmune) – A natural yeast beta glucan derived from the cell wall of a highly purified, proprietary strain, which demonstrates immune-supportive properties.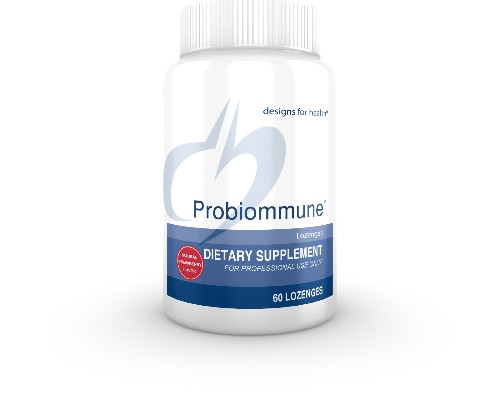 Order Your Probiommune