Home Collection Hormone Testing You Can Trust
---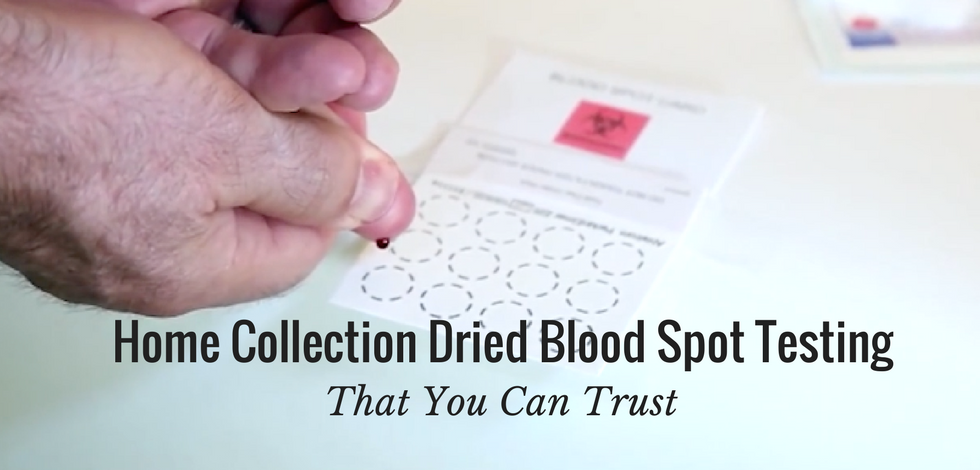 ZRT Laboratory have developed a range of convenient, accurate home-collection test kits offering distinct advantages by eliminating the need for a blood draw – saving patients time and money – and the inconvenience and indignity associated with urine collection.
ZRT Laboratory testing offers you the science for accurately measuring hormones from one of the world's top hormone laboratories, together with the convenience of home-collection.
Home Collection Testing That You Can Trust
Dried Blood Spot
Dried blood spot is a form of collection where patients place blood drops on a filter card after a finger prick with a lancet. Once dry, blood spot cards are extremely stable for shipment and storage, and the dried blood format offers excellent correlation with serum tests.
Why measure in blood spot?Blood spot is ideal for measuring hormones and other analytes such as insulin, blood lipids, Vitamin D, thyroid hormones, and elements like lead and magnesium. It offers distinct advantages over serum because it eliminates the need for a blood draw – saving patients time and money.
ZRT developed the science for accurately measuring hormones in dried blood spot and is currently the only lab to offer this method commercially.
ZRT's convenient blood spot collection eliminates blood draw needles, blood draw fees and the need to see a phlebotomist. Patients can collect their sample at home at the time that suits them. Research also shows that blood spot is more accurate than serum for measuring blood hormone levels in patients supplementing topically.
FAQ:
How do the ZRT blood tests differ from labs like MediLabs home collection tests?
ZRT Laboratory home collection blood tests are dried blood spot collection, requiring just 12 drops of blood on absorbent card. These are stable at room temperature for 30 days.
"Finger prick blood collection" is not the same thing as ZRT's dried blood spot collection. Finger prick collection is essentially the same as venipuncture collection (aka serum). This requires a much larger volume of blood, which is arguably not as convenient, or stress-free, as dried blood spot.
Furthermore, liquid blood is not stable, hence having to be sent back 'guaranteed next day'. Studies have shown that this type of "blood drop" testing has been linked with accuracy issues. Whereas ZRT's dried blood spot testing has been shown to be highly accurate and analogous to serum analysis.
Thus, dried blood spot is both more accurate, more stable and more convenient for patients.
Also available from ZRT Laboratory: convenient dried urine home-collection testing:
Dried urine
Dried urine is a form of collection where patients saturate a filter card with a urine sample. Once dry, urine cards are extremely stable for shipment and storage, and this method eliminates the need for jug urine collection.
Why measure in urine? Urine testing is the best way to measure adrenal and sex steroid hormone by-products and their respective metabolic pathways, providing a gauge for understanding the body's hormone metabolism. Urine testing is also the preferred method for testing elements like iodine and heavy metals like arsenic and cadmium. Additionally, it's the most common method for testing neurotransmitters.
Accurately measuring hormones in dried urine is another scientific first pioneered by ZRT.
ZRT's dried urine method offers a discreet, at-home testing alternative and eliminates the hassles of all-day jug urine collection. Patients collect urine on a filter strip up to four times during the day. Dried strips are shelf-stable for 30 days and are easy to mail back to us.
Unlike other labs, patients do not need to stop hormone supplementation to use ZRT's testing because they have ranges adjusted for age, menstrual status and supplementation types. This is the ideal method for tracking the effectiveness of hormone treatments.