Evail Series
---
INFORMATION IS FOR PROFESSIONAL USE ONLY.Educational information only. Not intended as a replacement for medical advice that is based on individual circumstances.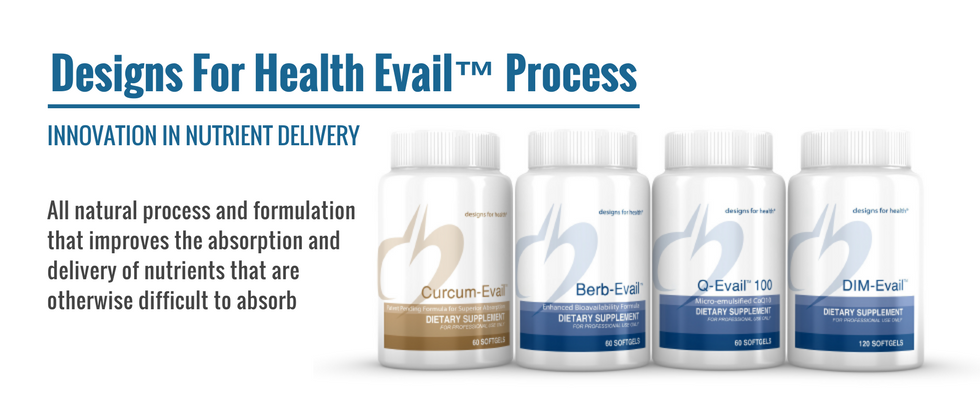 Designs for Health Evail™ is a new, proprietary manufacturing process that uses all-natural ingredients, including vitamin E, medium chain triglycerides (MCT) and lecithin developed to make difficult to absorb nutrients more absorbable.
Superior potency

Increased absorption rates

Reduced absorption times

Greater effects with lower dosages
The Evail™ Series:
Curcum-Evail™
Curcum-Evail™ is a highly bioavailable softgel curcuminoid formulation. It is manufactured utilising the Designs for Health Evail™ process, which overcomes the poor absorption challenge seen in typical curcumin formulas.
Curcum-Evail™ is:
38 times more bioavailable than the dry form of curcumin

4 times more potent than Theracumin®

2 times more potent than Meriva®

Proven tetrahydrocurcumin production
Thus, Curcum-Evail™ is unmatched for effectiveness and value.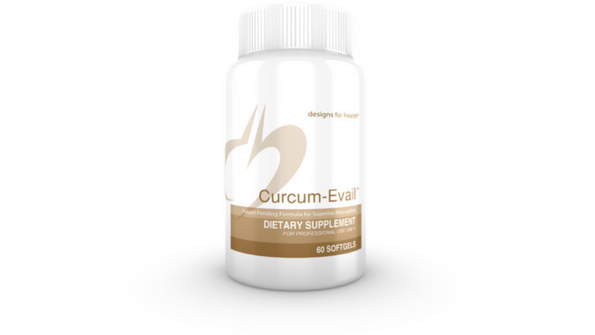 Find out More
Q-Evail™
Highly bioavailable ubiquinonecoenzyme Q10 (CoQ10) in easy-to-swallow softgels.
Superior bioavailability has been demonstrated in an in-house human clinical trial, showing this material to be up to 8 times more bioavailable than crystalline CoQ10 powder.
Find out More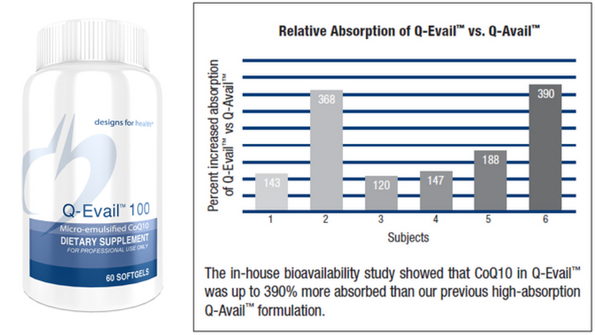 DIM-Evail™
Highly absorbable Diindolylmethane.
DIM-Evail™ provides 100 mg per softgel of diindolylmethane (DIM), a compound that helps to support healthy oestrogen metabolism. Due to its crystalline structure, absorption of DIM is minimal when given orally.
When tested side by side with I3C, DIM was shown to be a more potent antioxidant with greater activity than vitamin E because of its hydrogen (electron) donating ability.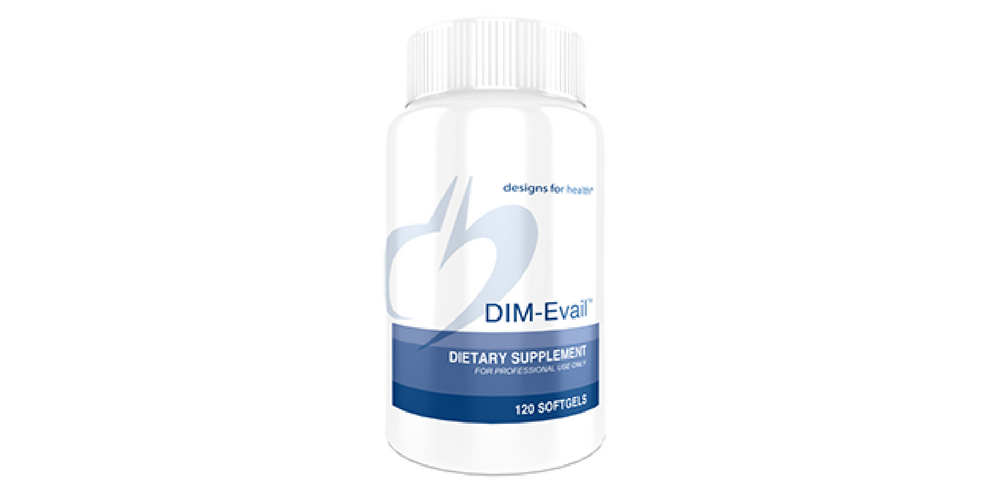 Find out More
1. Dietary emulsifiers impact the mouse gut microbiota promoting colitis and metabolic syndrome. Chassaing B et al. Nature. 2015 Mar 5;519(7541):92-6.
These statements have not been evaluated by the Food and Drug Administration. These products are not intended to diagnose, treat, cure or prevent any disease.