Bio.Revive Kinetic 90 Capsule
INVKIN90C
---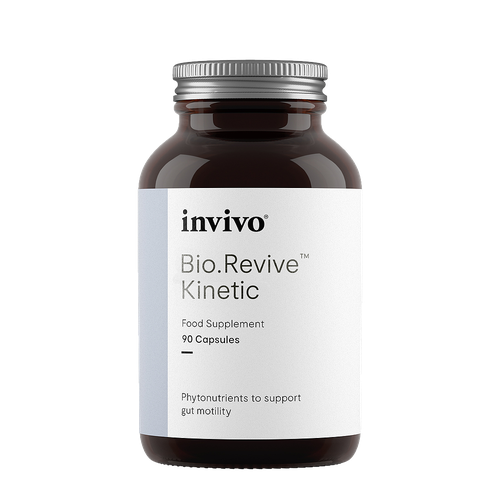 Contains 5-HTP
Contains Liquorice
Dairy Free
Gluten Free
Stevia Free
Bio.Revive Kinetic 90 Capsule
INVKIN90C
---
A phytonutrient formula to support gut motility (formerly Bio.Me Kinetic)
Formerly Bio.Me Kinetic; the formulation hasn't changed.
This botanical formula, featuring ginger root, citrus bioflavonoids, ginseng, and artichoke, as well as herbs inspired by Ayurvedic and Kampo traditions and solid recent research, naturally supports the upper gastrointestinal tract and gut motility.
3540 in stock
Key Benefits
---
Extensively researched botanicals
Ginger has been traditionally used to promote the normal balance of inflammatory hormones and in studies, it has been shown to accelerate gastric emptying
Rebalances the gastrointestinal tract
Rikkunshito, a Japanese Kampo traditional remedy, is a mixture of eight herbs thought to improve delayed gastric emptying (Gastroparesis)
Contains traditional Ayurvedic fruits
Amalaki and Haritaki, which are part of the traditional Ayurvedic digestive formula Triphala, have been studied in relation to inflammatory and antioxidant pathways and contain a range of beneficial phytochemical compounds
Supports Digestion
Haritaki is highly supportive in many aspects of digestive function from balancing gas levels to maintaining a regular bowel function as well as helping the body to deal with stress. Ginger also helps support digestion and contributes to the normal function of the intestinal tract.
Strengthen your body's defences
Antioxidants contribute to the total antioxidant capacity of the body and may help strengthen your body's defences
Nutritional Information
Ingredients: Amalaki Fruit, Haritaki Fruit, Poria cocos, Artichoke Leaf Powder, Zizyphus jujuba, Ginger Root Extract 10:1 (5% Gingerols), Griffonia Seed Extract (99% 5-HTP), Bitter Orange Bioflavonoid Extract (MicrobiomeX®), Liquorice Root Powder, Panax ginseng Powder, Other Ingredients: Anti-Caking Agent: Spirulina, Capsule Shell: Hydroxypropyl Methylcellulose
Directions
Take 3 capsules daily. Do not exceed the recommended dose, unless advised by your healthcare professional.
Suitable from 12 years
Warning:
Contains 5-HTP – should not be used in patients currently being treated, or who have recently been treated with, an SSRI antidepressant and should be discontinued two weeks prior to having surgery.
Contains Liquorice – should not be used with any potassium-sparing diuretics, or for those with hypertension.
Not suitable during pregnancy or lactation.