Bio.Revive Organic Colostrum 60 capsule
INVCOL60C
---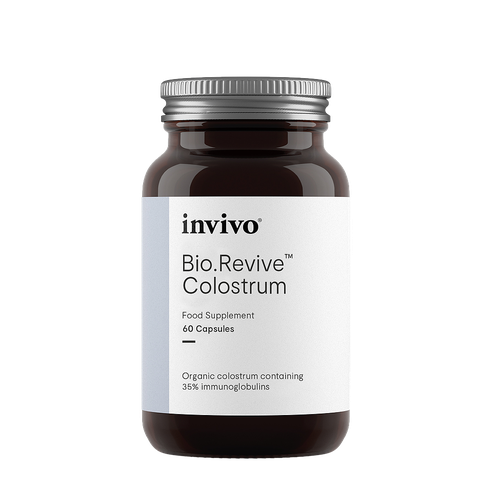 Bio.Revive Organic Colostrum 60 capsule
INVCOL60C
---
An organic, ethical bovine colostrum containing 35% immunoglobulins for gastrointestinal health & immune support
Colostrum capsules containing 35% immunoglobulins sourced from high-welfare, organically farmed cows. Colostrum is a rich source of immunoglobulins, lactoferrin, lactoperoxidase, lysozymes, interleukins, oligosaccharides, growth factors and insulin-like growth factor 1.
Bio.Revive™ Colostrum is micro-filtered for casein, leaving a full-spectrum whey product.
Contains: Milk
4128 in stock
Key Benefits
---
Sourced from organically farmed cows
The organic colostrum is naturally high in immunoglobulins and lactoferrin.
Antimicrobial properties
Oligosaccharides in colostrum help increase the growth of Bifidobacterium and Lactobacilli, which promote a healthy microbiome.
Supports gastrointestinal barrier health
Human clinical trials using colostrum show improved markers of gastrointestinal barrier health.
Nutritional Information
Ingredients: Organic Colostrum (35% IgG) (Milk), Hydroxypropyl Methylcellulose
FAQs
Is there any casein present in the finished product?
Though the product has been filtered to remove some of the casein, traces do still remain. We have tested this independently and determined this at the concentration of approximately 14ppm.
Is Bio.Revive Colostrum lactose free?
Bio.Revive Colostrum does contain lactose and should be avoided by individuals with a lactose issue (or taken with Digestive+ capsules, which contain lactase).
What is the amount of lactoferrin per Bio.Revive Colostrum capsule?
The approximate value of lactoferrin is 6.1mg per serving, this is the average value derived from testing from the last 2 batches.