When people come to visit Thrive's gardens in rural Berkshire, it's usually not long before they say something on the lines of: `You've got a very beautiful and peaceful place here' or `It must be a very relaxing environment to work in'.
And of course, they're right. It's hard to feel frazzled and stressed for long when you wander around our three-acre walled garden with its colourful array of flowers, shrubs and trees, not to mention all the wildlife they attract.
The power of gardening to improve our wellbeing was recognised by the founders of Thrive 40 years ago, who saw the enormous potential of bridging the worlds of health and horticulture.
Today the charity has hundreds of client gardeners coming to its three regional centres in Berkshire, Birmingham and London who experience better wellbeing and quality of life as a result of social and therapeutic horticulture (STH). STH is a process where trained Horticultural Therapists work with people and plants to improve an individual's physical and psychological health, as well as communication and thinking skills.
Research often shows that people who take part in gardening have a positive mental outlook. In 2013, the Mental Health Review Journal said:
A review of gardening-based interventions for people experiencing mental health difficulties reported that benefits include a reduction in symptoms of depression and anxiety and an increase in attentional capacity and self-esteem.
Thrive's own experience of running therapeutic gardening programmes bears this out.
For example, a few years ago Thrive ran a gardening club for 46 young people aged 12 to 18 with mental ill-health. Diagnoses included anxiety disorders, eating disorders, obsessive-compulsive disorder, ADHD and psychotic disorders.
Afterwards, comments from participants illustrated the positive impact of the programme:
`Gardening can be very relaxing.'
`Gardening takes my mind off things.'
`I feel happier and less anxious as I was focusing my energy into other activities.'
`I feel quite pleased with myself. This is probably because I actually achieved something, and it makes me feel good when I achieve something.'
As we get older, the potential benefits of gardening for mental health are no less powerful. In 2014, Thrive ran a programme across Berkshire, Hampshire and South Oxfordshire aimed at people aged over 50.
Of the 317 participants in weekly table-top gardening sessions, 80 per cent of them reported improved mental health.
One of the reasons gardening appeals to a wide range of people is that it's a very flexible activity that can be adapted to suit most needs.
It also fits well with the UK government's five ways to wellbeing. Encouragingly, acceptance of its therapeutic benefits, particularly in relation to mental health, is growing.
Professor Tim Kendall, National Clinical Director for Mental Health with NHS England, told the Daily Telegraph:
Gardening is good for our mental health as it offers physical exercise, which improves depression and anxiety, and also helps people find companionship and support.Professor Tim Kendall
Such recognition is very welcome and with social prescribing set to play a bigger role within the NHS, the stage is set for more people to experience the health and wellbeing benefits of gardening. Thrive, for one, will be eagerly watching this space.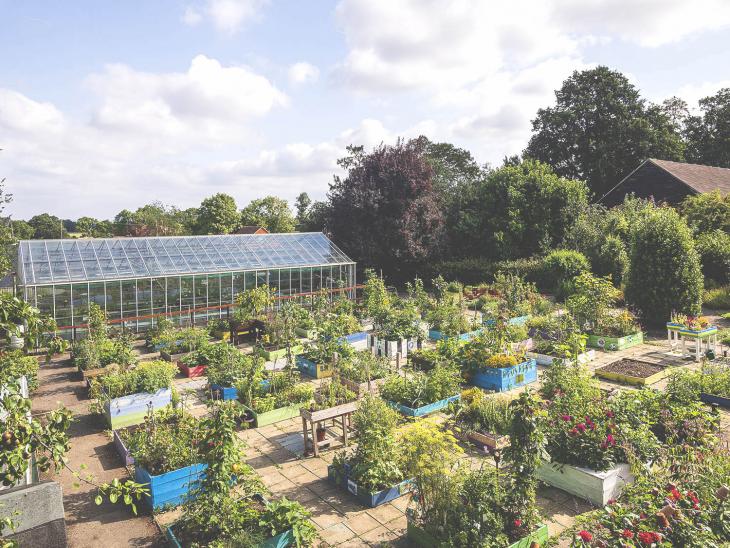 ---
About Thrive
Thrive is a charity that Invivo is supporting in 2019-2020.
Thrive uses gardening to bring about positive changes in the lives of people living with disabilities or ill health, or who are isolated, disadvantaged or vulnerable. They use gardening as a safe and secure way to develop someone's ability to mix socially and make friends, and to learn practical skills to help them be more independent.
Gardening also improves physical and mental health and could lead to volunteering with other organisations, qualifications in horticulture (which Thrive also offers), all of which could help lead to employment.
Thrive runs gardening programmes for people in Berkshire, London and Birmingham.
Why we chose to support Thrive
Part of Invivo's mission is to inspire positive and sustainable change to the future of healthcare and to use our business to drive grass-roots community and healthcare initiatives.
By supporting Thrive, we are supporting a sustainable approach to wellbeing that speaks to our vision: restoring human health and ecology. By getting hands dirty and being in contact with the earth and plants, Thrive is not only helping people reconnect with their community and improving physical and mental health, but it is helping them to reconnect with their environmental ecosystem, and thus their internal ecosystem: their microbiome. That they are helping employment via the transfer of skills is sustainable and long-sighted, and hugely contributes to overall wellbeing.