Stroud District Action on Plastic (SDAP) is a community group working with individuals, businesses and civic institutions across the Stroud district to eliminate unnecessary single use plastic and make better use of existing resources.
We hope to inspire other communities and individuals to help in the war against plastic.
The SDAP team has been extremely grateful to Invivo for their ongoing support, moral and practical, over the past eighteen months, and now for giving us the opportunity to say here a little about where we've come from and what it is we're trying to do.
SDAP is part of Transition Stroud, a local volunteer organisation which seeks to inspire action for a more sustainable future. SDAP itself was founded by our group leader, Claudi Williams, who has documented her own plastic free journey on her blog, Living Without Plastic (www.pfree.co.uk). Her site also acts as a fantastic resource for those looking to make positive behavioural changes in their use of plastic, in particular Claudi's regularly-updated list of local suppliers for plastic-free produce and packaging, which can be found here.
As Claudi explains on her site:
"In May 2016, our family embarked on an experiment to see whether it is possible to shop, eat, clean, wash and clothe ourselves without creating any plastic waste. We are a working couple with two sons, both of whom were in full-time higher education at the time. The idea came to us after becoming aware of global plastic pollution in the oceans which we experienced at first hand whilst on holiday in the Med. The devastating effects of plastic pollution on wildlife, and the journey of microplastic up the food chain and onto our plates, are now well-documented, and the whole world has been talking about reducing plastic use since the broadcasting of Blue Planet in 2017.
Once we embarked on our strict no-plastic diet, we quickly realised that plastic is everywhere in our lives, and that a simple swap to other materials and types of packaging is not the answer if we are concerned about the environmental impact. It led us to question our own 'consumerism' and how it relates to the climate crisis the world is experiencing right now. Ultimately, our experiment taught us to simply live with less stuff. We are still on a learning curve to apply this to all aspects of our lives. In the meantime, we continue to refuse plastic packaging and estimate that we have reduced plastic in our household by 90% or so."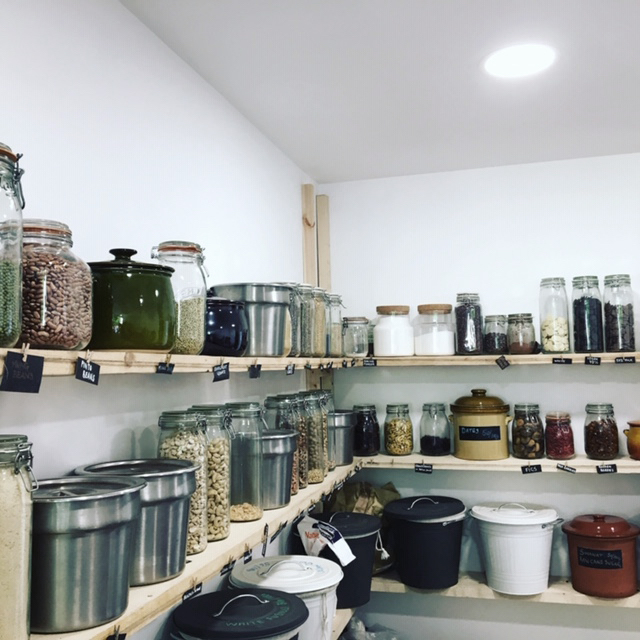 Claudi formed the community group after giving two public talks for Transition Stroud in July 2017 which attracted interest and support from the local community. The newly formed group began to hold monthly meetings at Atelier Stroud and to swap ideas and formalise the group's aims. Stroud Action on Plastic became Stroud Valleys Action on Plastic, as more volunteers from outside the town came on board. An early success came through the Refill Stroud project, run by SDAP, with the successful installation of a water fountain for public use in Bank Gardens, Stroud, funded by the Town Council. More recently, the group has widened its scope further to encompass the whole of Stroud district. In May of this year, SDAP were nominated for Community Project of the Year 2019 at the Pride of the Cotswolds Awards, for being "an inspiration to the community".
Stroud District Council have themselves committed to become a "single use plastic free" authority (agreeing here a series of actions, including the commitment to "seek to eliminate single use plastic at all SDC facilities by 2020, and from the Council supply chain by 2025") and they are very much in support of SDAP's aims. With the support of SDC Cllr Catherine Braun, and the receipt of a substantial donation from the Laura Kinsella Foundation, SDAP have been able to employ a Project Coordinator to carry out the next step, which is to take the project out into the community, and work with businesses and organisation to obtain "Plastic Free Community" status (as accredited by the marine conservation charity, Surfers Against Sewage) for the whole of the Stroud district. The accreditation has five distinct parts, involving local governance, businesses, direct action, local communities and fundraising.
Stroud District Action on Plastic relaunched recently with a well-attended event at Ebley Mill, Stroud, where stakeholders were welcomed by SDC Councillors and SDAP steering group members.
Claudi Williams, the Stroud District Action on Plastic group leader, said:
"I'm very excited about the opportunity to join up the fantastic work that is already going on across Stroud district, and to engage with even more people to help reduce the damaging impact of plastic on nature and the environment."
James Millar, Business Engagement lead for the group said:
"Action On Plastic can also be an opportunity for local businesses, by responding to consumer demand and reducing packaging costs as well as making business operations more environmentally sustainable. We're delighted to already have large and small businesses from the District on board and look forward to working with many more over the coming months". 
Cllr Catherine Braun (Green, Wotton-under-Edge ward) said:
"There has been cross party support from councillors to take action on plastic and I'm delighted that it is now one of Stroud District Council's Corporate Delivery Plan objectives. The council is fully supporting Stroud District Action on Plastic in this community engagement work to help the whole district achieve "Plastic Free Community" status."
The launch event coincided with the start of #PlasticFreeJuly, a global initiative that invites people to make changes to their single use plastic habits for the month of July (and hopefully beyond), and has to date been taken up by 177 million people worldwide.
Want to make changes to your own plastic habits? How to start:
Watch the excellent Sky News Ocean Rescue report A Plastic Tide, or the recent Hugh Fearnley-Whittingstall & Anita Rani documentary War on Plastic
Train yourself to buy unpackaged veg, fruit, bread, cheese and meat
Find your nearest refill shop for detergents
Have milk delivered in bottles
Get a metal water bottle for everyday use
Switch to bamboo toothbrushes
Read Claudi's New Year's resolutions blog post for more ideas, or have a look at Plastic Free July and consider signing up for the challenge