Tetrahydrocurcumin Mitigates Hyperhomocysteinemia Associated Damage
---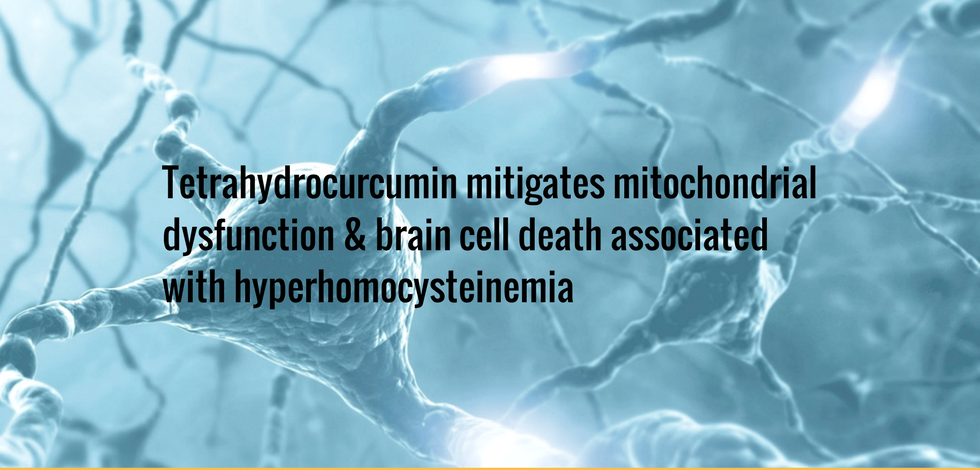 There are only a few natural products that have demonstrated the wide range of protective properties as curcumin. Turmeric has three main bioactive components which are curcumin, desmethoxycurcumin and bisdemethoxycurcumin. These curcuminoids have many biological effects, including anti-inflammatory, antioxidant, antitumor, antibacterial, and antiviral properties. Recently there has been significant attention on tetrahydrocurcumin, which is the most powerful metabolite of the curcuminoids.(1)
According to a new study published in the Journal of Cellular Physiology, researchers demonstrated that tetrahydrocurcumin mitigates homocysteine mediated mitochondrial remodeling in brain endothelial cells.
Hyperhomocysteinemia is a significant risk factor for many neurological diseases, and is associated with mitochondrial dysfunction and cell death. Tetrahydrocurcumin has been previously shown to modulate mitochondrial dysfunction as an antioxidant; however, its effects on elevated homocysteine levels related to mitochondrial dysfunction have not been investigated.
In this animal study, researchers demonstrated that hyperhomocysteinemia causes mitochondrial dysfunction and that tetrahydrocurcumin mitigates this dysfunction and increased reactive oxygen species production.
Tetrahydrocurcumin is not typically found in turmeric extract powders containing curcuminoids but appears in the plasma following ingestion of curcumin. It plays an important role in the antioxidant mechanism of curcumin and has been shown to be the most potent antioxidant of the curcuminoids.
Curcumin and tetrahydrocurcumin each have distinct benefits, thus it would make sense to include both and not just choose one over the other. Ideally, it is best to consume a bioavailable curcumin product that produces significant levels of this metabolite in vivo.
Previous studies have demonstrated the powerful neuroprotective properties of tetrahydrocurcumin. One study demonstrated a protective effect of tetrahydrocurcumin against oligomeric amyloid-β-induced toxicity.(2)
Curcumin is metabolised to tetrahydrocurcumin, and both of these compounds have distinct protective properties. Curcumin binds and modulates a wide array of targets, whereas tetrahydrocurcumin is a superior antioxidant but lacks some anti-inflammatory and pro-oxidant activities of curcumin.
It makes sense to use a curcumin formula that produces the potent metabolite, tetrahydrocurcumin, in vivo. It remains to be seen whether taking tetrahydrocurcumin is better than a formula that naturally produces significant levels of plasma tetrahydrocurcumin in vivo from the parent compounds.
Source:
Vacek J, Behera J et al. Tetrahydrocurcumin ameliorates homocysteine mediated mitochondrial remodeling in brain endothelial cells. Journal of Cellular Physiology. 2017 Aug 18. doi: 10.1002/jcp.26145
Article by Michael Jurgelewicz, DC, DACBN, DCBCN, CNS from Designs For Health