Our New Invivo Member
---
Look Who's Joined Us…
We're really excited to announce the latest member of our growing Invivo family, Louise Joyce, ND, who joins us as our Business Development Director.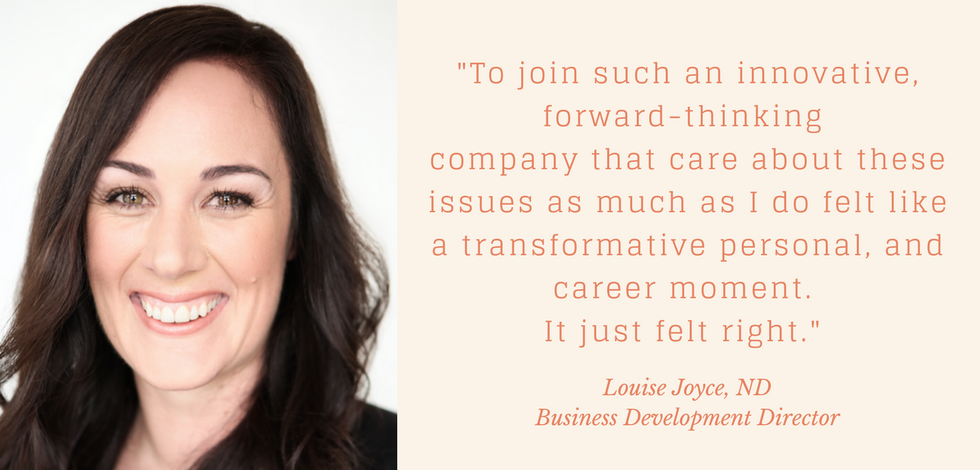 My decision to join the Invivo family was an easy one. Meeting Humphrey and hearing about the company made it clear that we share many personal and professional visions, but more than that, we share the same values.
Health companies, in my opinion, have a great responsibility to innovate and educate. An educated community is one that is empowered to be healthy and to thrive. This shapes our future generations and, looking to a sustainable, healthy future has to be one of the biggest challenges today, right?
Not only this, health companies have a great deal of resource responsibility. We need to open our eyes and listen to the inconvenient truths that are around us. Health companies have an ethical obligation to be leaders in reducing waste and minimising environmental harm in what can otherwise be a 'dirty' industry.
To join such an innovative, forward-thinking company that care about these issues as much as I do felt like a transformative personal, and career moment. It just felt right.
We at Invivo enjoy where we are currently as a company, but we also look ahead with purpose to evolve in a healthy, responsible way. I'd love for you all to be in touch and I look ahead with excitement as to what we can achieve together.