Curcum Evail Absorption Study
---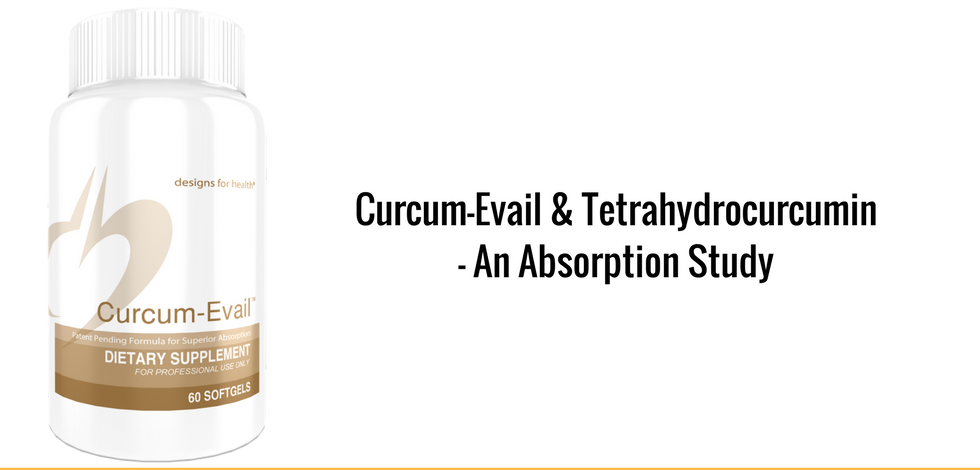 Recently
there has been significant attention on tetrahydrocurcumin,
which is the most powerful metabolite of the curcuminoids.
Tetrahydrocurcumin
is not typically found in turmeric extract powders containing 95% curcuminoids
used in dietary supplement products but appears in the plasma following
ingestion of curcuminoid
Tetrahydrocurcumin
plays an important role in the antioxidant mechanism of curcumin and has been
shown to be the most potent antioxidant of the curcuminoid  (1). The
free radical scavenging ability was compared in a series of studies of various curcuminoids
including curcumin, bisdemethoxycurcumin, and tetrahydrocurcumin (2). As
a result, tetrahydrocurcumin
was demonstrated as being the most effective, followed by curcumin and
bisdemethoxycurcumin.
Curcumin
and tetrahydrocurcumin
have distinct benefits over one another and it would make sense to have both
and not one over the other. It
would be best to consume a bioavailable curcumin product that produces
significant levels of this metabolite in vivo.
Curcum-Evail™ is unique in that it has been shown to increase in-vivo tetrahydrocurcumin as well as curcumin, demethoxycurcumin and bisdemethoxycurcumin in plasma. Compared to reference products containing equal concentrations of curcuminoids, Curcum-Evail™ exhibited several-fold higher absorption, resulting in plasma levels of tetrahydrocurcumin that were nearly 30 times higher. Area under the curve (AUC) amounts for plasma levels of all three curcuminoids in this formula were significantly higher than for the reference products (3).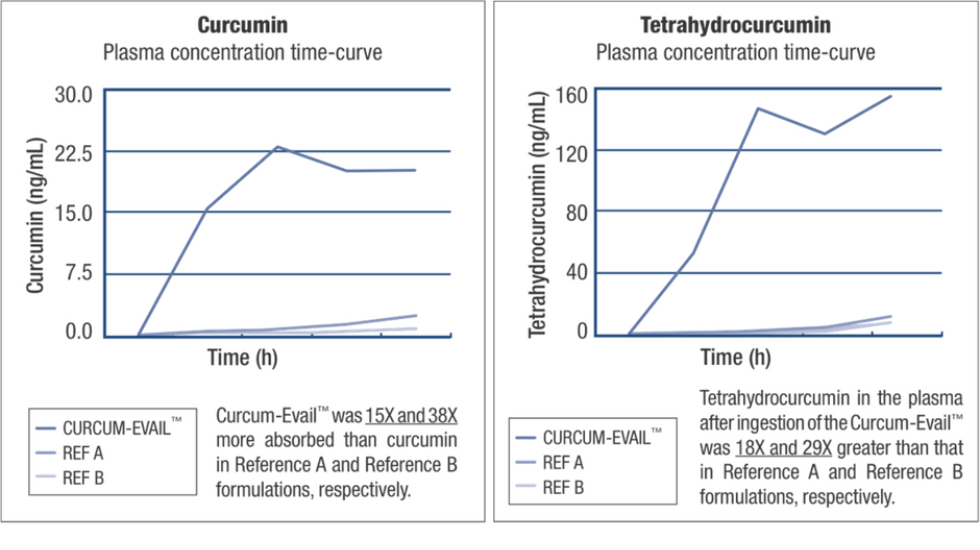 * Reference A is other leading enhanced bioavailability formulation.
* Reference B is the dry form of curcumin.
References
(1) Osawa, T. et al. (1995) Antioxidative activity of the Tetrahydrocurcuminoids. Biosci. Biotechnol. Biochem. 59(9): 1609-12
(2) Research Report No. 786, Sabinsa Corporation, U.S.A. (1995)
(3) Ganon et al., NOVEL CURCUMINOID FORMULATIONS AND RELATED METHODS OF TREATMENT